Garlic Scape and Almond Pesto Spread
Welcome back to Affordable + Fresh! We're still here together, on a mission to create awesome food experiences with affordable, shelf-stable items and fresh, local ingredients.
Get ready to kick down some doors. Before you put on your shoes, not real ones. Just … culinary ones. Food doors. We are kicking down food doors together here at Affordable + Fresh. We are breaking all the rules. I am a firm believer that great home cooking comes from trial and error. In my case, trial and error, and error, and error…and a popsicle break…and trial, and error. That's exactly how this recipe was born. Choosing to do things in a nontraditional way, and then trying and failing lots before I ended up with something great. For the record: the popsicle break was real. Fruit bars are my treat of choice this summer. I selected watermelon flavor for this particular some-trial-mostly-error session.
So here's the story. I set out to create a garlic scape and beet hummus for this recipe. A bright, summery twist on a classic dip. A tiny food door to give the boot. Sounds easy enough, right? Beets and scapes (the curly tops of garlic plants) are in season and easily accessible at the Farmer's Market. Chickpeas are always affordable and in stock at the grocery store. Seasonings, check. Lemon juice, olive oil, food processor, check. I was ready to go. On the first try, I scrubbed and roasted my beets in foil packets at 400 degrees for 40 minutes. I chopped the scapes and tossed them in the oven for the last 15 minutes. While the beets were cooling off to be peeled and chopped, I arranged my roasted scape pieces into cool mosaic designs. In the food processor, chickpeas, tahini, olive oil, pepper, and paprika, were lightly pulsed and ready for the star ingredients. After lots of blending, adding oil and splashing in small amounts of water, I had a chunky mess. My beets would not blend. My chopped scapes were fibrous and unbreakable. Failure #1. Luckily, I had plenty of beets to spare and I had set aside some chickpeas for a small experimental batch, should something go wrong. My future self knew the name of the game in my kitchen. (Trial and error, and error, and error, if you've already forgotten). So, I tried another batch with smaller, softer beet pieces and raw scapes. Again, I was left with unblended beet chunks and scape pieces. Failure #2. What was I doing wrong? I wouldn't find out until approximately 6 hours later, when I was ready to stop pouting and tackle the beet-scape duo yet again.
I decided to scrap the hummus idea and go with beet and scape pesto sauce with sunflower seeds instead of pine nuts. Still kicking down those food doors! I prepared my beets the same way, chopping off the greens and roots, scrubbing them down. This time, since I was using a single large beet, I noticed a very strong peppery smell. If you remember my asparagus slaw post, you know that smell makes my built-in radish alert go off. After consulting with my roommate, we discovered I had been hoodwinked. Bamboozled. No, beet-boozled! Someone out there had grown a batch of radishes so large and deeply red, I thought they were beets! I had noticed the aroma with the smaller ones during my first try, but thought I was just going a little crazy. The flesh of those had also been sort of striated, mostly pink with streaks of red. I assumed it was just a variety of beets I had yet to come across! Failure #3, with a bowl full of chopped fresh radishes sitting on my counter.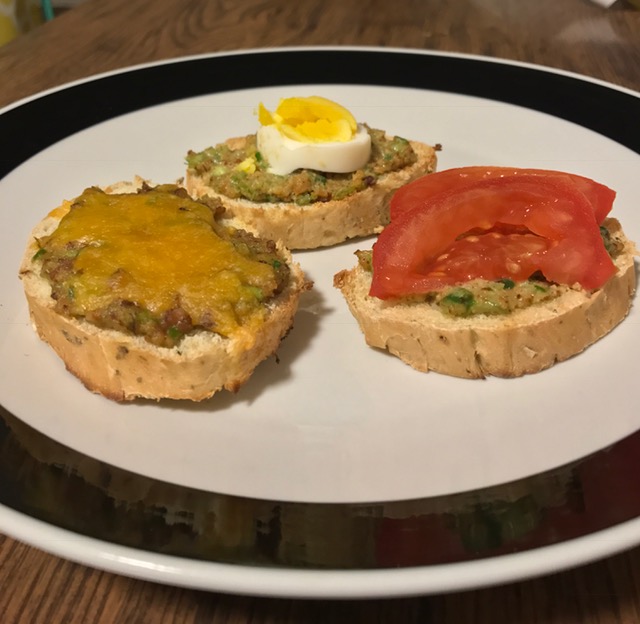 Finally, I decided to make a scape and almond pesto spread. I crossed my fingers, eyes and toes for this one to work. I finely chopped the last of my scapes and set them aside. I pulsed about 4oz almonds with olive oil, minced garlic, lemon juice, and assorted seasonings. The food processor and I went through a good few rounds of pulse, scrape down sides, blend, add water, stir. I was left with a spicy, textured, garlicky masterpiece. Luckily, I had some sourdough in the fridge just waiting to be toasted. This pesto spread would be great on crusty bread as an appetizer or as a snack with multigrain crackers.
The moral of my story is this: don't forget to experiment in the kitchen. Welcome your "failures" as opportunities to try something new, or to try something old in a different way. Using local ingredients, like the scapes, in addition to affordable, shelf stable ones (such as canned chickpeas or roasted nuts from the bulk section in the grocery store) allows me to work within my means and still expand my culinary horizons. I truly hope this edition of Affordable + Fresh helps you do the same. Enjoy!
| Ingredient | Amount |
| --- | --- |
| Roasted salted almonds | 4 oz |
| Garlic scapes | 6-8 stalks |
| Olive oil | 2 tbsp, plus additional to preferred texture |
| Lemon | 1 large |
| Minced garlic | ½ tsp |
| Black pepper | 2-3 tsp |
| Salt | 2-3 tsp |
| Water | ½ cup, plus additional to preferred texture |
| Grated/shredded parmesan cheese | 4 oz |
Directions
In a food processor, pulse almonds with 2 tbsp olive oil until evenly chopped.
Chop scapes and add to almond mixture. Toss in minced garlic, juice of half the lemon, 2 tsp each of salt and black pepper. Stir by hand, then pulse until mixed well.
To reach desired texture, add water and/or olive oil in small quantities, followed by hand-stirring and then blending until you're satisfied.
Once mixed to your liking, transfer to a bowl. Add in remaining salt, pepper, and other half of lemon juice. Stir and serve.
Keep sealed in refrigerator.
Notes: I used approximately 3 extra tbsp of olive oil and ¾ cup total of water in my stir and blend rotation. I recommend this pesto as a spread as opposed to a pasta sauce due to the thickness/texture, but feel free to experiment!