Eggplant (also known as aubergine) may seem like an odd topic for a blog post, I mean really how much can you write about eggplant. But that's exactly why I'm writing this blog, I feel that eggplant deserves more attention than it gets. A lot of our gardeners are growing eggplants but have no idea what to do with them once they are harvested, or in some cases, they don't even know what those strange purple vegetables are that they are growing. I have already been given eggplant from several participants this summer because they have no idea what to do with it, they just wanted to see what it was and how it grows (which is good enough reason for me, but if it was being eaten as well that would be even better).
   Eggplant is a member of the nightshade family along with potatoes, tomatoes, sweet peppers, and more.  Eggplants contain a host of vitamins, minerals, and phytonutrients, they are high in dietary fiber, contain high values of bone building manganese and heart healthy potassium. Eggplants also fall in the category of fruits and vegetables that is beneficial for the brain/memory, urinary tract health, and general healthy aging, what more could you want!?
   So why don't more people love eggplant? Well eggplant is probably best described as having a spongy and bitter texture, which makes it sound completely unappetizing. However, with a little extra care and creativity eggplant can be made into a delicious meal. The first step in many preparations of eggplant is to sweat the eggplant (sprinkle salt on sliced eggplant and let it drain for several hours) or to soak it (soak sliced eggplant in milk in the fridge overnight). Both of these steps will help to take away the bitter taste of eggplant that so many people dislike (some preparations of eggplant will not require this, but if you are following a recipe it will give you all the details!). Once you have your eggplant sliced and de bittered there are many ways you can prepare it, everything from simple grilling or roasting to blending it into dips, topping pizza, pan frying, or making cakes!
Here are a few recipes that I love
Recipe: Sautéed Eggplant with Honey and Thyme (aspicyperspective.com)
Ingredients
Delicious eggplant with local honey
and thyme from the garden
1 large eggplant
2 cups milk
½ cup flour
3-5 Tb. olive oil
3 Tb. honey
2 Tb. fresh thyme leaves
Sea Salt
Instructions
Peel the eggplant and slice it into thin 1/8 inch rounds.
Place the eggplant slices in an airtight container and pour the milk over it. Cover and refrigerate overnight.
In a small pie pan, mix the flour with 1 tsp. salt. Heat 2 tablespoons of olive oil in large skillet over medium-high heat. Line a plate with paper towels.
When the oil is hot, dredge a few slices of eggplant in the flour and tap off the excess. Gently place them in the skillet and pan fry for 2 minutes per side. Remove and place on the plate to drain.
Repeat with the rest of the eggplant, adding oil to the skillet as needed. Sprinkle the slices with a little more sea salt as they come out of the skillet.
Serve warm, drizzled with honey and sprinkled with thyme.
Baba Ganoush is a dip that is very similar to hummus; it can be used on raw veggies, crackers, pita bread, as a pizza topping or sandwich spread among other things.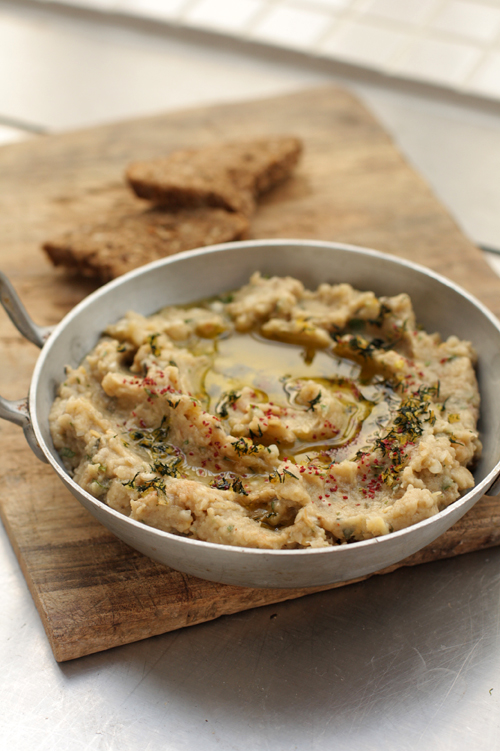 Baba Ganoush (davidlebovitz.com)
 3 medium-sized eggplants
1/2 cup (130g) tahini (sesame paste)
1 1/4 teaspoons coarse salt
3 tablespoons freshly-squeezed lemon juice
3 cloves garlic, peeled and smashed
1/8 teaspoon chile powder
1 tablespoon olive oil
a half bunch picked flat-leaf parsley or cilantro leaves
1. Preheat the oven to 375F (190C).
2. Prick each eggplant a few times, then char the outside of the eggplants by placing them directly on the flame of a gas burner and as the skin chars, turn them until the eggplants are uniformly-charred on the outside. (If you don't have a gas stove, you can char them under the broiler. If not, skip to the next step.)
3. Place the eggplants on a baking sheet and roast in the oven for 20 to 30 minutes, until they're completely soft; you should be able to easily poke a paring knife into them and meet no resistance.
4. Remove from oven and let cool.
5. Split the eggplant and scrape out the pulp. Puree the pulp in a blender or food processor with the other ingredients until smooth.
6. Taste, and season with additional salt and lemon juice, if necessary.
Storage: Baba Ganoush can be made and refrigerated for up to five days prior to serving.
This recipe I have not tested, but I have eaten eggplant cake before, and it is delicious!
Eggplant Cake
1/2 c. butter
1/2 c. sugar
1/2 c. honey
2 eggs
2 c. grated eggplant
1 c. white flour
1/2 c. whole wheat flour
1/4 tsp. salt
1 tsp. baking powder
1 tsp. cinnamon
1/2 tsp. cloves
1/2 c. chopped nuts
3 oz. cream cheese, softened
1 c. confectioners' sugar
Ground nutmeg (for garnish)
1. Cream butter.
2. Add sugar and honey.
3. Beat in egg, and then stir in grated eggplant, the white flour, the whole wheat flour, the salt, baking powder, cinnamon, nutmeg, cloves, and chopped nuts.
4.  Pour into greased and floured tube pan. Bake at 350 degrees for 1 hour.
5. Cream softened cream cheese until light and fluffy. Gradually beat in the confectioners' sugar. Drizzle on cooled cake, sprinkle frosting with nutmeg.
So give eggplant a try, and let me know what you think!